Product Data - Floor Panel
Concreate Concrete Flooring:
Enjoy the contemporary look and durability of real concrete floors without the challenges of pouring and finishing a slab.
Concreate flooring planks, just ½-inch thick, have tongue and groove edges and ends to simplify installation and micro-beveled edges for ease of cleaning and visual appeal. Planks install quickly and cleanly with adhesives.
Use Concrete and Wood Together:
Concreate Floors can be installed with suitable wood floors as long as they have the same thickness, tongue and groove edges!
Thickness: 14 mm (½ inch)
Concrete Planks:
• Size: 1200 x 300 mm (47-¼ x 11-¾ inch)
• Area: 0.36 m2 (3.88 ft²)
• Mass: 18.06 kg/m2 (3.70 lb./ft²)
Base Layer: The 10 mm (3/8-inch) thick base layer is a specially formulated hydraulic cement mixed with recycled fibers. This cement requires only half the energy used to produce portland cement, reducing the CO2 emissions required to manufacture Concreate.
Top Layer: Concrete Floor: 4 mm (1/8-inch) thick proprietary blend of Portland cement, select fine aggregate, admixtures, recycled fibers, and fade-resistant pigments.
Attribute

Protocol

Performance

Comment

Visual

Colorfastness

ISO 105-B02

Grade 3-4

Response to Water

ASTM C1185

• 20.6% Water Absorption
• 0.05% Moisture Movement
TChemical
Resistance

EN 423

Class 0 - No Affect
• White vinegar
• Isopropyl alcohol
• Mineral oil
• NaOH (5%)
• Bleach (5.25% NaOCl)
• Olive Oil
• Red & white wine
• Coffee & tea
Class 1- Very Slight
• Hydrocloric acid
(5% HCl)
• Sulfuric acid (5%
H2SO4)
Safety

Ignitability

EN ISO 9239-1
EN ISO 11925-02

Class Bfl-s1

Slip Resistance

DIN 51130

Mean overall acceptance angle (to horizontal) = 12.5°
• Slip resistance assessment group = R1

ANSI A137.1

Wet dynamic coefficient of friction (DCOF) = 0.31 average

EN 13983

μ = 0.42

Pendulum Test Value
(PTV), Method AS
4663
• 45 PTV before abrasion
• 50 PTV after 500 abrasion cycles
Sustainable Slip
Resistance after wear
Environmental
Volatile
Organic
Compound
(VOC)

CDPH Method V1.1

Compliant for schools and offices

CA Spec, 01350

Formaldehyde

EN 717-1

ND (Not Detectable)

Impact Sound

EN ISO 717-2

Impact Sound Improvement Index: ∆Lw = 14 dB
Design Guide and Features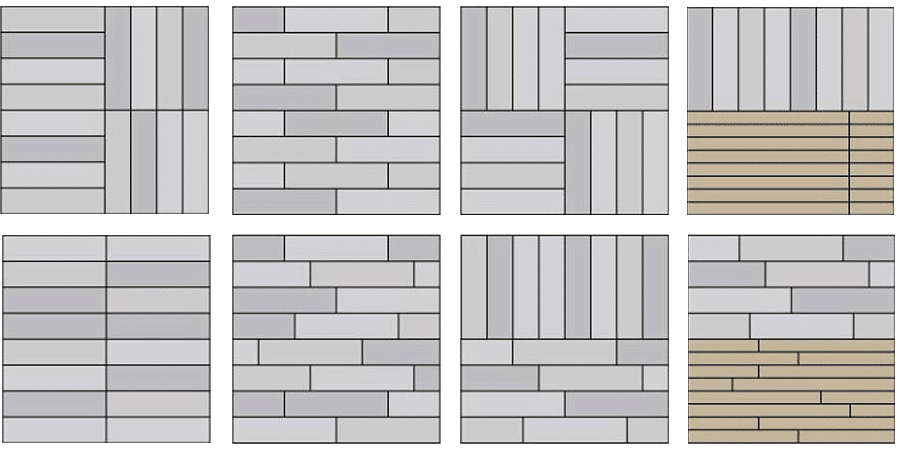 Wood

Floor
Above: Optional layout combinations of Concreate and compatible wood flooring!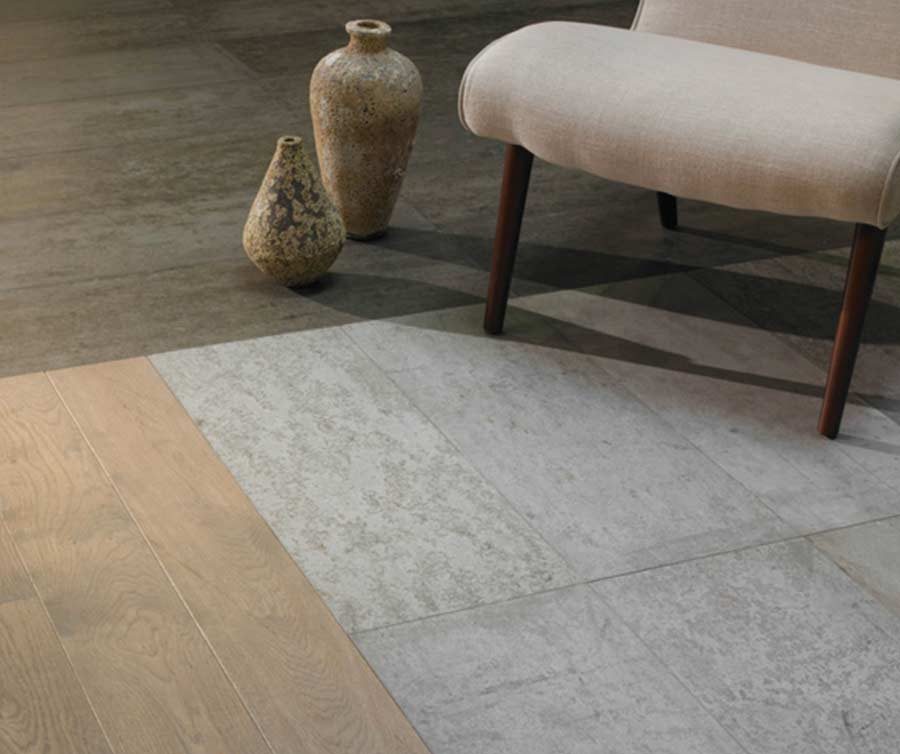 Our products have been independently tested for conformance with environmental requirements for VOC & formaldehyde emissions, asbestos, lead and cadmium content.
This page displays only on a large screen